IPHS 2012 Symposium: Facing the Challenges
Tuesday 22nd May 2012, Mullingar Park Hotel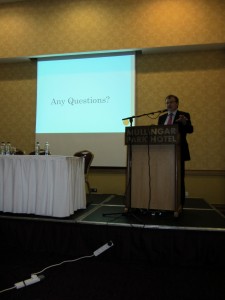 Jim Power, Chairman of the Love Irish Food Group gave a presentation on the economic overview of the Irish and European fiscal situation. He spoke about the importance of a Yes vote in the Fiscal Treaty Referendum. He also described the issues regarding the export potential of China and the expected decline in EU Pork production. He recommended that pig producers continue to get support from Teagasc, to engage in branding and marketing and to try and minimise environmental effects.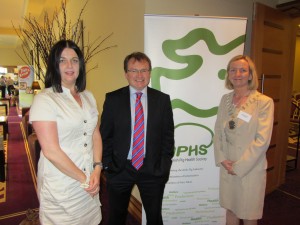 Dr.Laura Boyle of Teagasc, Jim Power of Love Irish Food with PHS President Rhoda Bermingham.
Dr. Boyle spoke about the updates, implications and options for group housing pregnant sows. She mentioned that access to credit is a major problem and expressed the importance of good housing design. She also showed results of the recent Teagasc study into the prevalence of sow lamness in individual and group housing

Symposium speakers; David Burch of Octagon Services Ltd, Dr Paul Hughes, Programme Leader of Intensive Livestock Production Systems of the South Australian Research and Development Institute and Jake Waddilove of Eastgate Veterinary Group with PHS President Rhoda Bermingham
Dr.Hughes was the first of the symposium speakers and looked at factors for rearing and management of the sow. He spoked about the importance of gilt selection and vasectomised boars. David Burch mentioned the lack of antibiotics in the industry and suggested that pig farmers must come together with all in the industry and lobby like other EU countries. Jake Waddilove stressed that if a vaccination programme fails then it is not the vaccine's fault. Vaccine storage and administration are two examples of factors that are overlooked.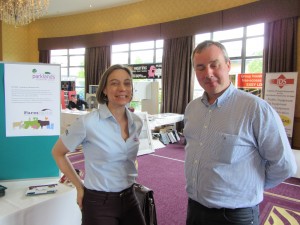 Rosanna Wregor, Parklands Veterinary Group & Paul Tully, Producer and former PHS President 2010-2011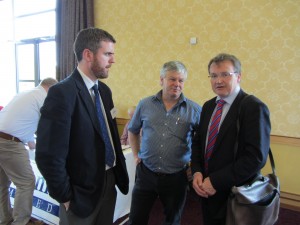 Ronan Casserly PHS Hon.Secretary, Francis Coffey Devenish Nutrition and Jim Power of Love Irish Food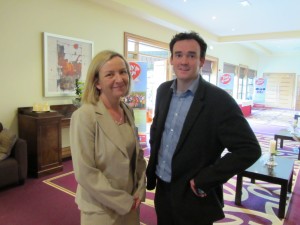 Rhoda Bermingham PHS President & Barry Hoare PHS Hon.Treasurer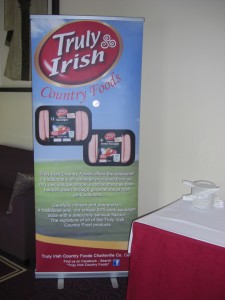 Truly Irish Country Foods – sponsors who also supplied delegates with breakfast rolls at registration.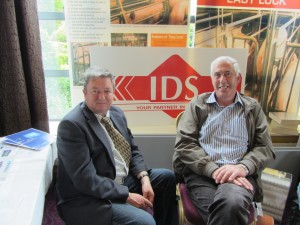 Pat O'Regan IDS with Mick McDonnell Producer
A special thank you to sponsors – Mullingar Park Hotel, Truly Irish Country Foods, Vion Food Group, Teagasc, Brett Brothers, AC Convert Heating Ltd., Calor Gas, McAree Engineering, Merial Animal Health, Agrihealth, Provimi B.V., RVR.ie, Eco Animal Health, Alltech, Adesco, Agri Lights Ltd, Pfizer Animal Health, Specialist Nutrition Ireland, Southern Milling, Pat Kirwan & Associates, Weda Feeding Systems Ltd, P.E. Services, Kiernan Milling, Wright Quarry Products, Glanbia Gain Feeds, Makeway Ltd, Hermitage, Strule Veterinary Services, IFA, A.W. Ennis Ltd, G Finnerty Agri Services, Dawn Pork and Bacon, Elanco, Parklands Veterinary Group, Spirofeed, Pig Improvement Associates, Ballynegall Feeds, Oldcastle Laboratories Ltd, IDS, Inform Nutrition, Devenish Nutrition, Huvepharma, O'Doherty Farm Equipment, FBD, Agridata, Noel O Sullivan Ark Animal Care, G.H. Best Ltd, Jetwash Ltd, R&H Hall, Phil Bennis & Sons Ltd, Trouw Nutrition, PIC, Crowley Engineering, Volac, Bord Bia, Glenmarshal Sires, Boehringer Ingelheim, MSD Animal Health, LFA, Irish Farmers Journal, DSM, Azelis Sangrovit, Longford Precast, Rabbitte Catering Services, Nutriad, Bayer Animal Health, Univet and C.L.W Environmental Planners. Most importantly, a big thank you to all delegates who attended the event.