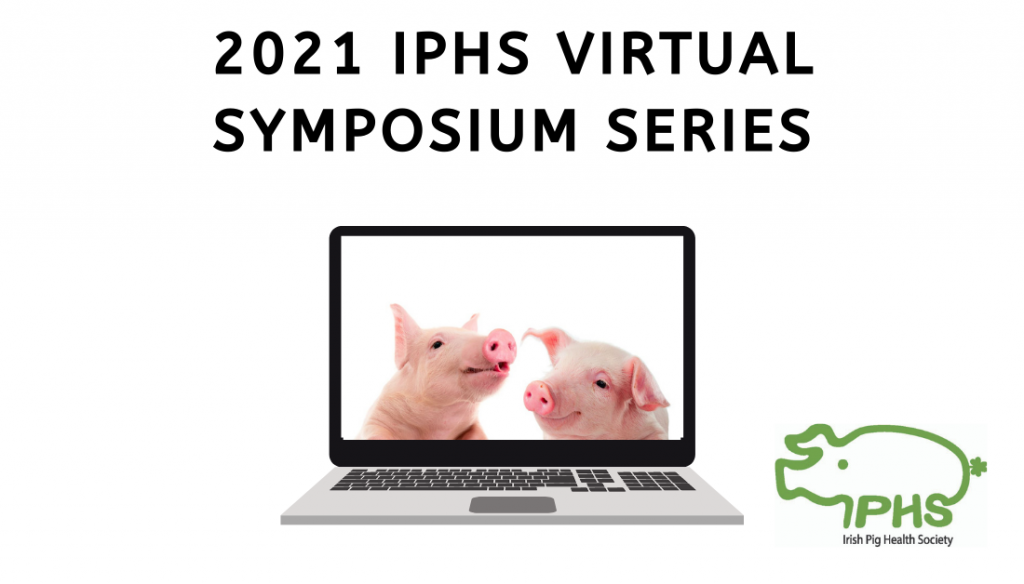 Irish Pig Health Society Virtual Symposium Series 2021: Full webinar recordings now available! 
We were delighted to hold our 2021 Symposium virtually this year. For those who attended the webinar series, we would like to say a big thank you and we hope you found it an informative and enjoyable event.
In case you missed it, or if you would like to refer back, you can watch the full recording of each webinar below:
Webinar 1: Prevention versus Catastrophe. Global, local, internal, and external biosecurity perspectives
Topics: 
Global perspectives on ASF – Egan Brockhoff, Canadian pig veterinary expert and veterinary counsellor for the Canadian Pork Council
Biosecurity practices in pigs and poultry – Ciaran Cunningham, poultry veterinary for more than 10 years and Director of Veterinary Services for Agrihealth & Iain Mortimer, pig veterinary practitioner with Agrihealth Ireland
Webinar 2: Solid Foundations. Principles, details and daily practices for improving health and welfare
Topics:
Managing Inflammation, Health and Vices – Mirjam Lechner, German pig consultant with specialisation in behavioural disorders and metabolic disorders in pigs
How the legislation on pig welfare has been implemented in Spain – Miguel Higuera, Director of ANPROGAPOR (Spanish Pig Farmers Association) and Vice-chairman of the Copa-Cogeca Pig Meat Working Party
Webinar 3: Wean well. Farmer experiences in weaning without zinc and other medications
Topics:
Living without zinc oxide – practical experiences from Irish pig producers who are successfully rearing pigs in the absence of zinc oxide – Roy Gallie (pig farmer, Co. Kildare and Chairman IFA National Pigs Committee), Ciaran Sheehan (pig farmer, Co. Cork), Ciaran Carroll (Head of Knowledge Transfer, Pig Development Department, Teagasc)
Listen back: IPHS interview with Dr. Edgar Garcia Manzanilla
Listen below to our recent interview with the Head of the Pig Development Department at Teagasc, Dr. Edgar Garcia Manzanilla. Edgar was interviewed by IPHS President Dr Carla Gomes and IPHS Committee Member, Susan Dudley ahead of our 2021 Virtual Symposium Series.